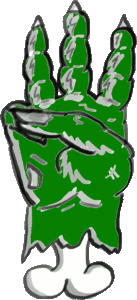 3/5 Claws
Challenge: 5.5
Awe: 7
Care: 8.5
Theme: 8.5
Team: 5.5
Signature Color: Green
 Michael: 
"Camp Echo is pleasantly self-contained in a single stage.  Sorry for the spoiler, but that's a major part of its appeal—and, for people who really like or require multi-stage experiences, I suppose it's a potential disappointment.  But I definitely enjoyed it as a virtue, though.  The room has a sliding difficulty scale, with more clues added and puzzle difficulty softened when much younger players are involved; this also means that there are often a couple ways of finding the solution.  There's a coherent logic behind the puzzles of the room, intriguing and satisfying enough for a good mystery novel.  It's light, fun, and ideal for families; while there is an evil monster in the plot, there's nothing gruesome, bloody, or frightening in the experience.  All the suspense comes from the challenge and the time limit.  A "camp councilor" is with you, but this venue has an artful way of involving the in-character monitors, so that they're helpful but never invasive. "
 Paul:  
"It's worth stating that Michael and I haven't had a disagreement about a room this surprising in months [Editor: as of publication time, the boys have been debating their scores for over a fortnight].  Don't misunderstand me; we both really enjoyed Camp Echo, but it seems we'd done so for entirely different reasons.  I thought the theming was spot on, particularly in how the puzzles tied in with the decor.  Though the setting was the interior of the camp's Activity Cabin, the execution felt so organic and natural that the puzzles just seemed to happen by accident, earning Camp Echo the Signature Color of Green.
It's true that this room doesn't have any flashy gimmicks but, just like with Timeline, the consistency of the theme was so through that Camp Echo is a great example of creating Awe without breaking the bank.
Still, I do think that the challenges themselves could be a little more varied; while I enjoy puzzles that rely heavily on observational skills, that's not every player's strong point [Editor: sometimes it's not Paul's either].
As is tradition at Escape Goat, every weekend brings a bonus challenge.  This time, in honor of Harry Potter's birthday, we were placed under a 'silence curse' for the first 10 minutes of play.  While an absolutely amazing experience to have had, it did highlight both the strengths and weaknesses of the room.  Not being able to talk to each other, our team split up and each player gravitated toward their own activity; on the plus side, everyone was able to contribute and feel useful while on the negative side, none of the challenges encouraged/required players to work together by design.  There is really no reason a single player couldn't complete Camp Echo on their own.
We also got to add our lock to the 'Chain of Bonus Challenge Bragging Rights' for surviving the silence curse.  It looks great up there next to our other two and the whole idea is the kind of caring touch I love about family owned/operated venues."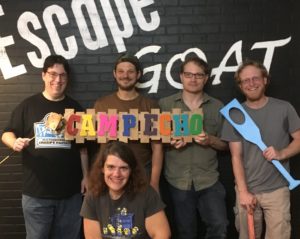 Escape Goat
1165 E. Plant St.
Winter Garden, FL 34787
(573) 783-9534
Read more posts in the category:
Review