3/5 Claws
Challenge: 7.5
Awe: 5.5
Care: 8.5
Theme: 7
Team: 6.5
Signature Color: Blue
 Paul:  
"I have a secret, and I'm not ashamed to admit it: I adore a good cliche!  I will not apologize for it and, better still, I know I am not alone.  The trick here, though, is that I said a good cliche.  When executed skillfully and deliberately, as is the case with Escape Goat's Area 51, these familiar motifs provide us with a unique nostalgia for the Yesterday-that-never-was.  Deliberately avoiding the realm of historical recreation, this room instead brings players into modern Hollywood's version of 1950's sci-fi.  The result is an experience that manages to 'act' serious while constantly sneaking sly winks of recognition to the astute audience member.
Throughout the room, challenges cloaked in increasingly unfamiliar scientific factoids require players to take growing leaps of mental agility.  The expectation for these deductive acrobatics is rewarded repeatedly until players become so focused on complex possibilities that they forget they actually learned the answer to the puzzle that had them stuck for the last fifteen minutes back in grade school.  The ensuing realization can leave one feeling like the butt of a joke, but one that was so well executed that anyone would have fallen for it… except, of course, a third-grader.  This unique focus on technical, cerebral space-nerdiness (and the moment of shame) earn Area 51 the Signature Color of Blue.
Though it's not the flashiest alien/army room I've ever seen, the clever but subtle pop-couture references make it one of the most fun and memorable."
 Michael: 
"Area 51 is a government-hiding-aliens themed room which has no deep similarity to any other rooms of that genre [Editor: which is why Partly Wicked uses Signature Colors].  The puzzles are original, though ironically the scientific theme creates logical dissonance in some places: some puzzles are insoluble with reasoning, others, insoluble without it.
Imagine a room where some of the puzzles turn on a silly pun, which, once grasped, makes them seem less meaningful, while other puzzles take the science-aspect of the experience more seriously, and looking for doofy double-entendres might make you feel dumb once you realize you actually need a calculator to work it out.  Area 51, in other words, never seems to have a logical style all its own, so there's no way to "get to know it."  Some difficulties with seeing and hearing present challenges that won't be consistent between family members.  
All that aside, this room was created with great competency and care, and is well worth a visit.  It also has a sense of humor, and no real fidelity to alien-related urban legends, so if you think you wouldn't like the theme, I would urge you to give it a try anyway.  It is unusually challenging in places, quite tame in others.  The unevenness of the difficulty level might make it better suited for groups whose players have unusually diverse styles of reasoning. "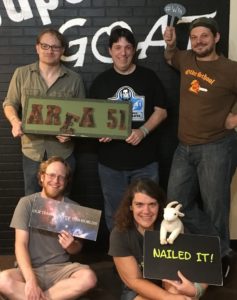 Escape Goat
1165 E. Plant St.
Winter Garden, FL 34787
(573) 783-9534
Read more posts in the category:
Review