4 OUT OF 5 CLAWS
Challenge: 6.5
Awe: 8
Care: 10
Theme: 8.5
Team: 6
Signature Color: Hot Pink for Giddy!
 Michael:  
"THIS ROOM IS A MASTERPIECE.  IT WAS TOTALLY WORTH TAKING A 5 AM FLIGHT TO CALIFORNIA SO I COULD FIT THIS IN.  AND I WAS SO EXCITED BECAUSE I'D NEVER BEEN A BETA TESTER BEFORE (THAT ALONE WAS GREAT BECAUSE IT MADE US TALK MORE.)
THE THEME IS 'CREEPY CIRCUS' AND IT DELIVERS, BUT I CALL THE BACK-STORY OF THE GAME "FORGETTABLE" BECAUSE… I CAN'T REMEMBER IT. THE ROOM SOARS FAR ABOVE THE OVERWRITTEN STORY BECAUSE THE PUZZLES THEMSELVES TELL THE STORY MORE VISCERALLY THAN ABANDONED SCRAPS OF PAPER OR VIDEOS CAN.
THE PUZZLES WERE TOUGH, BUT EACH ONE LEAD VERY CONFIDENTLY TO THE NEXT–WHICH I LIKE BECAUSE I ALWAYS KNOW  I'M ON THE RIGHT TRACK.  THE CAREFULLY LIVED-IN SETS DREW ME IN DEEPER, UNLIKE HORROR ROOMS WHICH INTENTIONALLY REPEL PLAYERS.  BECAUSE THE PUZZLES ARE SO INTRINSICALLY LINKED TO THE STORY, WHEN WE IMAGINE A SOLUTION HERE, WE'RE REALLY LEARNING TO THINK LIKE A VILLAIN.  SOLVING MOST PUZZLES MAKE US FEEL EXPERIENCED OR SMART, BUT THIS FIRST PHASE MADE ME FEEL CUNNING.
THEN IT ALL FELL APART.  WITH LITERALLY A SINGLE STEP, THE SENSORY INPUT BECAME ALMOST AN ASSAULT AND THE PUZZLES SEEMED TO SCATTER LIKE RABBITS.  THE SENSE OF CHOICE WAS SO OVERWHELMING I JUST LOST MY GROOVE, AND IT TOOK ME A LONG TIME TO BOUNCE BACK.  BUT I HUNG IN THERE, DAMMIT.  AND WHAT A PAYOFF (ONCE PAUL CLUED ME IN ON WHAT HE'D BEEN SEEING WHILE RUNNING AROUND LIKE A LUNATIC, GRABBING EVERYTHING AND MUTTERING TO HIMSELF.)
IN PHASE TWO, WE'RE INTRODUCED TO SUPPORTING CHARACTERS, AND WE SEE AN EVEN MORE SKILLED DISPLAY OF PUZZLE-CRAFT, AS MULTIPLE PERSONAE ARE PRESENTED TO US IN THE FORM OF SETS OF GAMES; THEY AREN'T COLOR-CODED AND THEY DON'T HAVE TO BE; THE PERSONALITY OF EACH PUZZLE IS EASY TO MATCH TO ITS SUPPORTING CAST OF THE TILLMAN BROTHERS' CIRCUS.  I WAS AMAZED BY SO MANY ARTIFACTS PAUL HAD BEEN WORKING WITH (SOME MAY SAY MONOPOLIZING) JUST ON THEIR OWN UNIQUENESS, PARTICULARLY BY A CUSTOM DESIGNED WOODEN PUZZLE MADE EXCLUSIVELY FOR THE RING MASTER ROOM BY A MASTER CARPENTER.  AT THAT POINT IT FELT LIKE THE TV SHOW HAD FINALLY  COME BACK FROM COMMERCIAL.  OUR TEAM GOT DOWN TO BUSINESS JUST IN TIME FOR ALL THE BEST PARTS.  BY THE END OF THE GAME I WAS GIDDY WITH JOY.  OH YES, THIS IS DEFINITELY A HOT PINK  ROOM."
 Paul:  
"BLAME FOR THE THE EVENTS OF LATE WEDNESDAY NIGHT (THURSDAY MORNING, TECHNICALLY), LIES COMPLETELY WITH ME.  I REGRET NOTHING AND I WOULD DO IT ALL AGAIN IN A HEARTBEAT! D2R IS EXACTLY WHAT HAS BEEN MISSING FROM A MAJORITY OF ROOMS.
I HAVE NO IDEA HOW MICHAEL COULD SAY ANYTHING ABOUT THIS EXPERIENCE WAS CALMING; EVERYTHING IN THAT ROOM WAS SO METICULOUSLY CARED FOR, CONSIDERED AND EVEN HYSTERICALLY RESEARCHED THAT I WAS CONSTANTLY AFRAID I WAS GOING TO BREAK SOMETHING AND IT REALLY IMPACTED MY "ROOM RUMMAGE" PERFORMANCE.  EVEN THOUGH I WAS CONSTANTLY SAYING OUT LOUD WHAT I WAS DOING, WHY I WAS DOING IT AND HOW I REACTED TO THE RESULTS (AS PER MOST BETA TESTING PROTOCOLS) IT WAS A STRUGGLE NOT TO SAY "DON'T DROP IT, DON'T DROP IT, DON'T DROP IT."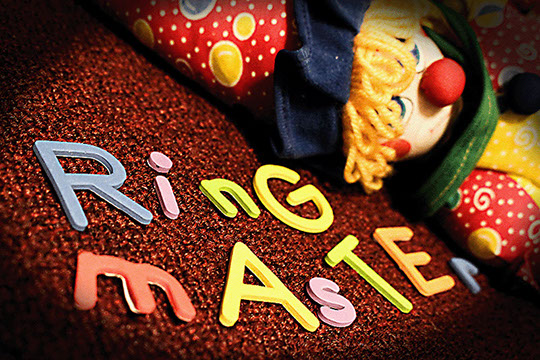 IT'S CLEAR THAT D2E CONSCIOUSLY INCLUDES A RANGE OF PUZZLE TYPES IN EACH OF THEIR ROOMS AND, IN MY EXPERIENCE, THEIR DECISIONS ABOUT WHAT KIND OF CHALLENGE TO USE (EX: PHYSICAL VS. COMPUTATIONAL)  AND WHERE THEY SHOULD GO IN THE OVERALL TIME-LINE OF A ROOM ARE SPOT ON, BUT THIS TIME THERE WAS A DISCONNECT.  MOVING INTO PHASE TWO, WHEN MICHAEL AND I DIDN'T HAVE TO WORK ON THE SAME PUZZLES AT THE SAME TIME, WE  EACH GRAVITATED TOWARD DIFFERENT CLUES THAT INTERESTED US.  AS A RESULT, WE BOTH COMPLETELY MISSED PUZZLES THAT THE OTHER ONE WOULD HAVE SPOTTED AND SOLVED IMMEDIATELY.  RING MASTER USES SOME VERY CLEVER RELATIVE LOCATION CUES TO CONTINUE TO TELL THE STORY OF THE WRONG DOINGS AT THE SINISTER CIRCUS.  BUT ONCE I STARTED MOVING THINGS AROUND, THERE WAS NOTHING LEFT IN MY WAKE TO TELL MICHAEL WHERE THE NARRATIVE HAD GONE.  AS A RESULT, I ACCIDENTALLY SENT THE S. S. STORYLINE SAILING OFF WITHOUT HIM.  I ENDED UP TRYING MY BEST TO DO A BUNCH OF PUZZLES ALL AT ONCE THAT DIDN'T REALLY GO TOGETHER.  WORSE YET, THEY WERE PUZZLES I'M TRADITIONALLY HORRIBLE AT.
AND I'M NOT GOING TO BLAME THE ROOM'S BETA TEST EITHER.  IF WE HAD FORMED AN ACTUAL TEAM WITH DIVERSE SKILL SETS WE WOULD HAVE PERFORMED BETTER BUT WE WOULDN'T NECESSARILY HAVE BEEN HAPPIER.  AS IT WAS, EVEN THOUGH IT WAS ALREADY ABOUT 3AM, THE OWNERS LET US KEEP GOING FOR ANOTHER HOUR UNTIL BY SHEER DETERMINATION WE GIDDILY SKIPPED OVER THE FINISH LINE.  RING MASTER MARKS THE ONLY OCCASION THAT MICHAEL GOT UNANIMOUS AGREEMENT ON THE 'COLOR' OF A ROOM.  LET'S HEAR IT FOR HOT PINK!"
WE THANK DARE 2 ESCAPE FOR INVITING US TO PREVIEW THIS GAME DURING ITS BETA TESTING PERIOD. ALTHOUGH COMPLIMENTARY ADMISSION WAS PROVIDED, THAT IN NO WAY IMPACTS THE OPINIONS EXPRESSED BY THIS REVIEW.
Read more posts in the category:
Review